The MOSH Leading Practice Adoption System
The MOSH Leading Practice Adoption System is a process that identifies leading practices, selects and documents the best of them (possibly with refinements) at the operational mine (the source mine), and identifies possible aids and barriers to their adoption at other mines.
Technological details of each leading practice, together with detailed leadership behaviour and behavioural communication plans, and procedures for adoption are then compiled by the relevant MOSH Adoption Team into a Leading Practice Adoption Guide. This guidance is tested at either the first adoption mine, or at a special demonstration mine, and accordingly updated by the MOSH Adoption Team to take account of lessons learned. The MOSH Adoption Team facilitates dissemination of this guidance throughout the industry by presenting details at a Leading Practice Adoption Workshop and by establishing a Community of Practice for Adoption (COPA). The COPA brings together key persons from all potential adoption mines. It becomes a forum for providing continuing assistance to mines and for individual mines to learn from one another on how to adopt and continuously improve each practice.
The MOSH Leading Practice Adoption System fully recognises that, while a technological or procedural solution may have demonstrated effectiveness at one site, success in its adoption at another operation will depend on the key people at that operation - at all levels. It is the behavioural communication (to address knowledge gaps and misperceptions) and leadership behaviour (to facilitate desired behaviour) aspects of the MOSH Leading Practice that address this challenge. Without the buy-in and support of these key people at the mine, "top down" implementation of the practice at the mine is likely to be short-lived.
The two distinguishing features of the Adoption System that differentiate it from past approaches are, in addition to the usual necessary technical detail about the practice, the inclusion of a:
Structured communication strategy to achieve appropriate behaviours of key people at the mine
Leadership behaviour strategy to set out and achieve the desired behaviours of key people at all levels
Fundamental to the development of leadership behaviour and behavioural communication strategies is an understanding of stakeholder and adopter perceptions (mental models) of the risk/hazard being addressed by the recommended leading practice. The behavioural communication and leadership behaviour strategies that form part of the leading practices have been developed to align with and to respond to the mental models of potential stakeholders and adopters.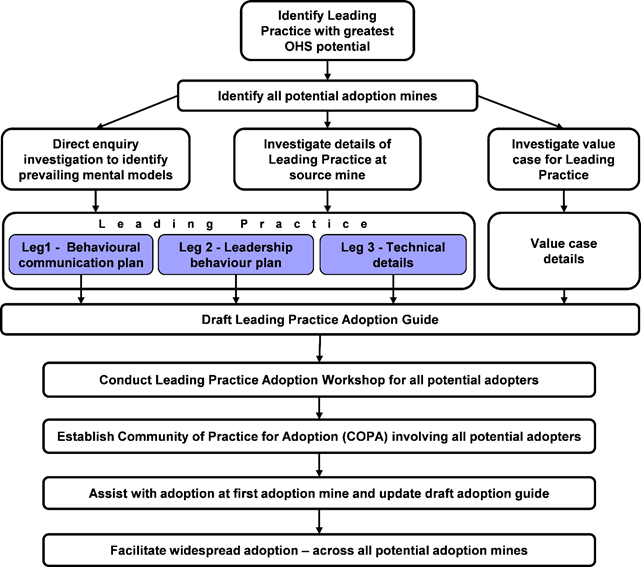 Reference material